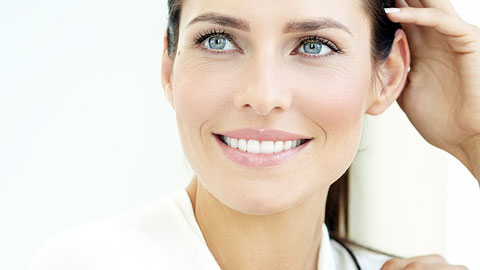 All-Porcelain Crowns & Bridges
Artistic Smile Design with Porcelain. If you look closely at an attractive, bright smile, you will notice that the "white" color is actually a combination of several slightly different shades that reflect light in various ways.
Available in numerous shades, dental porcelain is the perfect material to duplicate the color and translucency of natural teeth.
Dr. Rodriguez works closely with local Asheville dental laboratories to design an all-porcelain crown or bridge that magically 'melts' into your smile, creating a natural-looking, gorgeous result.
Tooth Restoration with Dental Crowns & Bridges
Dental Crowns, or "caps", are used to cover teeth that have been structurally compromised by decay, broken-down fillings, or trauma.
Dental Bridges are used to replace one or more missing teeth. A bridge is anchored on either end by attaching to existing healthy tooth structures or dental implants. It supports a single crown or multiple crowns to restore the area so you can bite and smile with confidence.
The Beauty of All-Porcelain Restorations
In the past, crowns and bridges were constructed with porcelain facings and metal substructures (PFM) to withstand biting forces and to allow them to adhere to natural tooth structure using dental cements. Older PFM restorations often have grayed edges and worn porcelain; this is more noticeable in front teeth and sometimes makes patients feel self-conscious when they smile.
For over twenty years, bonding technology has offered the advantage of adhering porcelain restorations directly to tooth structure, creating a durable and esthetic result. No metal, no greyed edges.
Bonding procedures have given dentists greater opportunity to be more detailed in the design of an all-porcelain restoration by combining shades to create the most natural look possible.
Often, less tooth removal is necessary in preparing a tooth for an all-porcelain crown or bridge, as there is no need to create space for metal. This offers the dentist the opportunity to design more conservative restorations and preserve more natural tooth structure.
There are certain conditions in back teeth in which a metal base structure may be necessary for a crown or bridge to best support the bite. In many cases, however, all-porcelain restorations are the ideal solution to create a natural-looking smile. No one will know they are not your "real" teeth!
Are you ready to brighten up your look?
Contact us today to schedule your personal esthetic consultation with Dr. Rodriguez and explore the benefits of all-porcelain crowns and bridges.