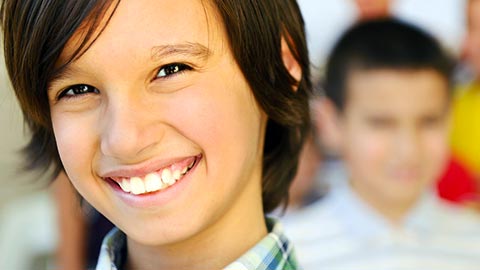 Family Dentistry
Comprehensive Care for the Entire Family. We enjoy seeing patients of all ages in our practice, and are committed to providing you and your family with comprehensive dental care in a warm, friendly environment.
Regular visits to the dentist have been proven to help prevent dental decay and gum disease. Dr. Rodriguez and our Hygiene Team work together to monitor your dental health and perform preventive treatments to help keep your smile healthy.
Our recommended oral health regimen includes:
Routine Cleanings & Checkups
We recommend that our patients visit our office every 3-6 months for routine preventive care. At this visit, we will take necessary digital xrays and Dr. Rodriguez will perform a dental examination to evaluate the condition of your teeth, gums and jaw joints. With this information in hand, Dr. Rodriguez will offer recommendations and options for any necessary treatment and work with you to develop a plan to keep your smile healthy.
We may recommend fluoride treatments or dental sealants for your child to help prevent tooth decay. A dental sealant is a plastic coating that is painted onto the chewing surface of a tooth to seal deep grooves and help prevent decay-causing bacteria from penetrating the enamel. We will check your child's sealants at your regular checkup appointments, and can re-apply the sealant material if necessary.
Periodontal (Gum) Health
At each checkup visit, Dr. Rodriguez and our Hygienists will measure your gums to look for signs of periodontal (gum) disease. If left untreated, gum disease can lead to tooth loss and infection.
If periodontal disease is diagnosed, we may perform non-surgical gum therapy in our office, or, refer you to a Periodontist (gum specialist) for care.
Oral Cancer Screening
Oral Cancer Kills One Person Every Hour, 24 Hours a Day in North America. At each preventive visit, Dr. Rodriguez and our Hygiene Team will examine the tongue and oral soft tissue for signs of oral cancer. If any abnormalities exist, we will work with our oral surgeon and medical partners to rule out cancerous conditions.
Be Aware! Oral cancer usually appears as red, white or discolored lesions, patches or lumps in or around the mouth. It is usually painless in the early stages, and often goes unnoticed, so regular screenings can be life-saving.