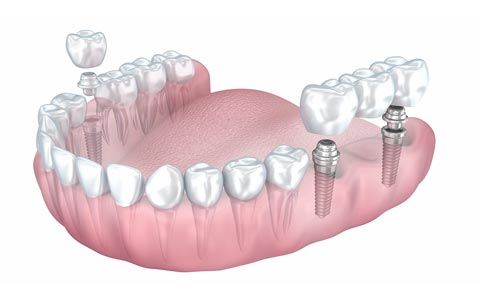 Dental Implants
The possibilities that exist today to rebuild smiles with dental implants are virtually unlimited. If you have broken-down or missing teeth or loose dentures, dental implants may be the solution you have been waiting for.
Placed by one of our excellent local dental specialists, these tiny titanium cylinders act as structural replacements for the roots of lost teeth to create a foundation that is restored by Dr. Rodriguez with a crown, bridge, or denture.
Single Tooth Replacement
Dental implants are often the preferred approach to replace a single missing tooth rather than a traditional dental bridge, which involves drilling of surrounding teeth that may not need treatment otherwise. A dental implant can be restored with a porcelain crown to create a natural-looking result, as well as return strength and function to your bite.
Replacement of Multiple Teeth
Dental implants may also be used to replace multiple teeth, or to anchor a fixed bridge or an implant-supported denture. Because dental implants provide reinforcement to the bite, they also help maintain bone structure, which is vital to preserve other teeth and your oral health.
Implant-Supported Dentures
An implant-supported denture is removable for cleaning, similar to your current dentures. The difference, however, is that your new denture is fitted with special fittings that "snap" onto dental implants that have been strategically placed by a dental specialist for support. The dental implants hold the denture firmly in place, thus eliminating the need for denture adhesives.
Are you ready to enjoy eating and smiling again?
Contact Us to schedule a personal consultation with Dr. Rodriguez to find out how you may benefit from dental implants.